Solve Thunderbird Cannot Send Email Along with Attachment Error Quicky
admin | November 8th, 2017 | Mozilla Thunderbird
Summary: The blog will cover the cause and solutions for Thunderbird cannot send email error from a Thunderbird user account. This error offers a user to receive email messages but cannot send email using Thunderbird. Every case scenario is discussed in the blog with appropriate solutions.
Thunderbird is a renowned desktop based email client and open source application which is used to manage emails, chats, news etc very efficiently. Despite its various benefits, these are various errors that user encounter on daily bases. Among them, the most commonly experienced error is Thunderbird cannot send email along with attachments. And proceeding this error Thunderbird won't be able to perform any activity even after restarting. Now, let's take a look at the reasons responsible for this issue's occurrence.
Either these are improper Thunderbird Settings
Or SMTP connection Issue
Even blocked Port 25 by ISP can lead to the error
Advance Solution for Thunderbird cannot send email error
As you can see that all the reasons behind Thunderbird won't sent email error requires manual effort to fix the issue. But the chances of getting it resolved using manual solutions are quite less. Therefore, here is an alternate solution for you. The best way you can effortlessly get rid of error is by shifting to another email client. This is possible using MBOX Converter Tool which will migrate complete Thunderbird data to MS Outlook file. Moreover, the manual solutions are also mentioned in the following section.
Method to Resolve Mozilla Thunderbird Cannot Send Email
When a user face problem like Thunderbird can receive but not send emails, then there are a number of solutions available to tackle the situation. To restart the sending email services user can opt any of the following procedures.
Solution 1: First Check the Account SMTP Settings
The initial step is to launch the Thunderbird application to remove the Thunderbird IMAP problem.
Click on Tools followed by Account Settings.
Now among the three tabs on the top-right side go to Option >> Account Settings.
Select the Outgoing Server (SMTP) option. Here make sure that our configured account SMTP settings are correct.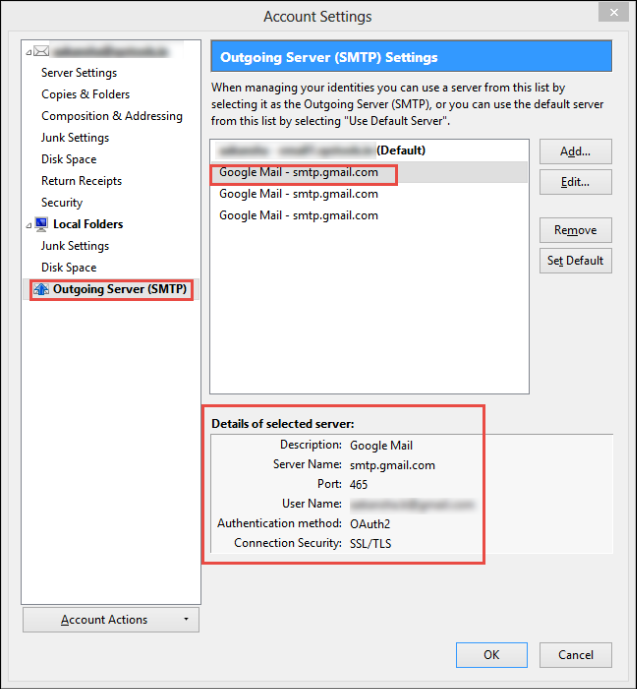 You can click on Edit Option to make changes in SMTP settings and troubleshoot Thunderbird won't send email error.
Moreover, you can visit the website of email service provider and then search for Mail Settings >> SMTP.
Finally, crosscheck and match Thunderbird settings with the document settings.
Solution 2: Verify the SMTP Server
To do so, you need to follow the same steps as the first methods, but instead of checking the SMTP settings you need to verify the Server settings.
In Account Settings, select the Thunderbird Account that is facing sending email error.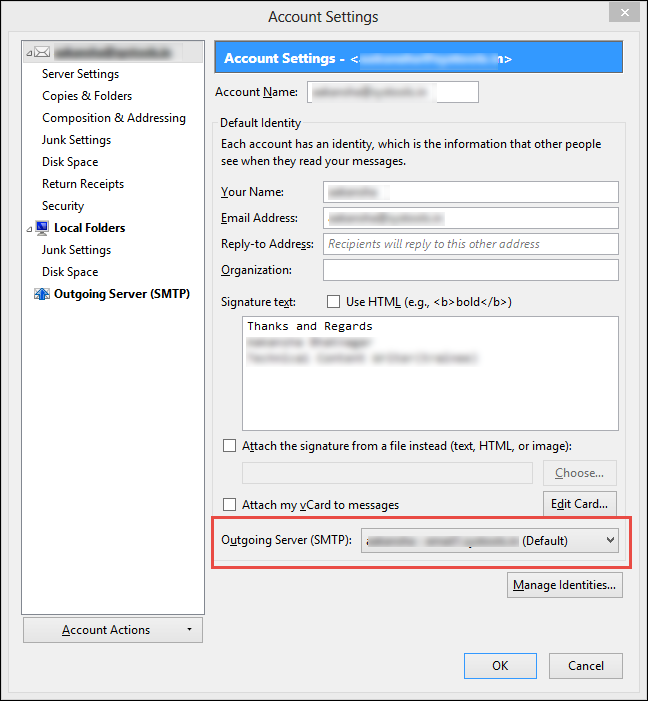 Here verify that correct SMTP server is being used as an email address like abc@gmail.com cannot send an email via Yahoo SMTP.
Solution 3: Check for External Blocking
Make sure that any firewall or antivirus installed in the system is not interrupting and causing Thunderbird cannot send email error.
Also, ISP can cause this error by blocking the outgoing email port 25. So, you can change the port number to either 465 or 587 only after consulting your ISP.
You can also uninstall the suspected application, installed on the system that can cause Thunderbird won't send email error.
Solution 4: Delete and Reset SMTP Password
To start with, try to update the latest version of Thunderbird application.
After gain sending email, if the Thunderbird email problem still persists then, go to Tool>> Option.
Then select Security>> Password.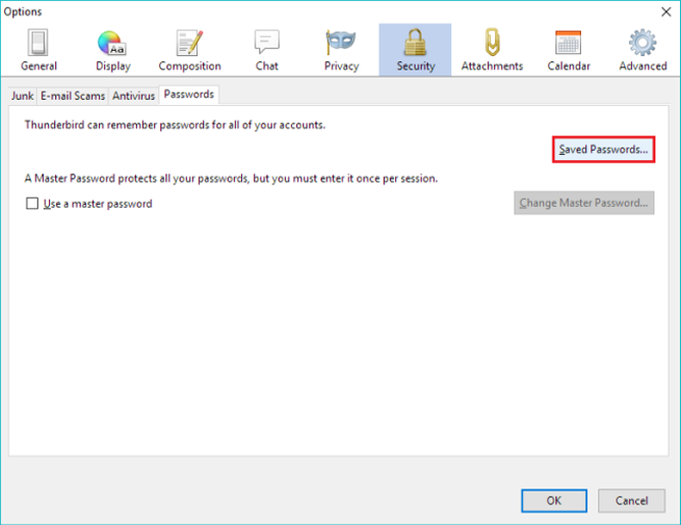 You can delete the SMTP password and then again reconfigure the email account. And again try to send an email and check for Thunderbird cannot send email error.
Otherwise, you can change the SMTP password by going to the ISP and the clicking on Reset Password. Add that password to Thunderbird and resolve the error.
Drawbacks of Manual Solutions
The manual methods require the continuous technical assistance of Internet Service Provider. Which can be a time-consuming process.
 Also, there is no guarantee that using manual solutions Thunderbird won't send email error will be resolved.
Changing the SMTP and Thunderbird settings is a risky task. A proper technical understanding is required.
Conclusion
Thunderbird cannot send email error can arise suddenly and can affect the daily work procedure. This is necessary to fix Thunderbird won't send email error as it can affect the overall functionality of the application. Many solutions are discussed in the blog but if all the solution failed to troubleshoot the error then you are left with the option of changing the email client. This can be done by using a professional tool mentioned in the earlier section of the post.